So last night 27thOct2014 around 2am. Whilst half awake, The sound of thunder was rolling in. I could hear something different about this thunder than other storms. It was far in the distance and seemed to be moving at a much slower speed than normal. It made me curious enough to get up and look. Opening the curtin with dilated puplils, both amazed and blinded me. The lightning was much more intensified than a regular storm. Still half asleep, excited and blind, I stumbled my way through the darkened house to look for my camera. Narrowly missing the escaping cat that was startled by my sudden bear like appearance. I eventually found the camera, right where I left it and picking up to continue my journey. I rushed toward the storm at warp factor 2. Just outside to the front lawn at home, still in PJ.'s.  I attempted to take some images. (yes the lens cap was off).
First shot: too washed out.. adjusted ISO down to 250.
Second shot:Too fast.. adjusted speed to about 2 secs, but too slow, adjusted to 0.8sec.
Next set of shots are close, but too much light, so f stop up from 2.8 to 18. Looks good.
Camera up and and uttering a little prayer. "God, please don't let me get hit". Mutiple fork lightning happening all over the western sky. No time to get tripod. Just shoot.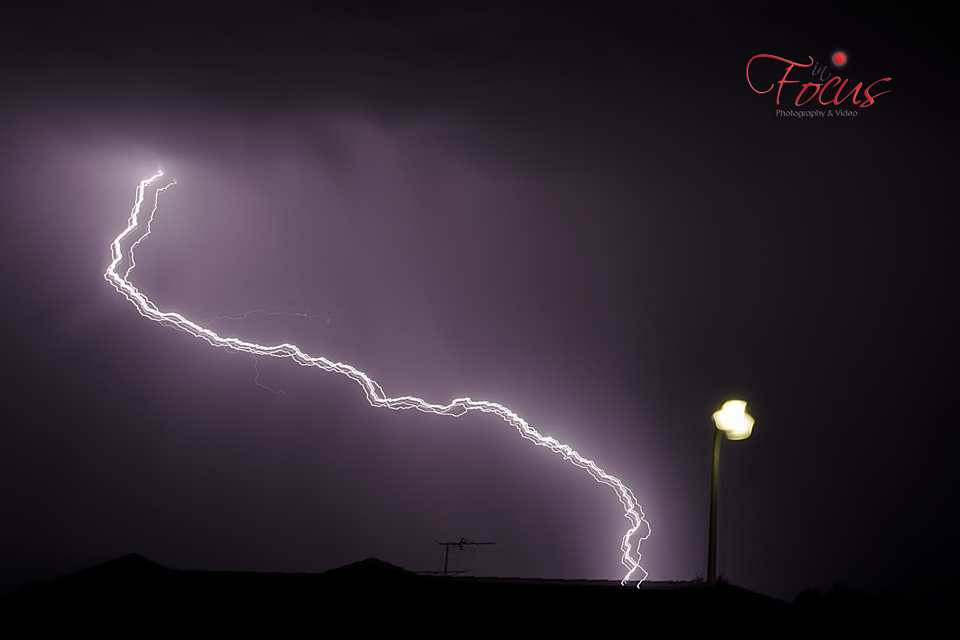 The moral of the story. Tripod would be better, as the mutiple strikes were amazing and lasting a lot longer than a single strike. Camera movement would better be minimised from the nervous camera operator.  A lightning flash is a nuclear explosion. So I wonder how much UV radiation I recieved from the multiple strikes.Perhaps UV sunglasses next time. Umbrella definately not required. All are single shots, no additional editing or trick photography. Real!